Kubrick, one of the goldfish I was fish sitting died this morning. I like to think he's swimming happily in the big fish pond in the sky. The other fish appear to be unaffected by his passing.
***
Rainbow the cat is sitting next to me as I type this. She's sitting on the table (naughty cat!), on a map of North America. Her butt is covering Southern California and Arizona, her body is covering parts of New Mexico, Texas and Mexico, and her tail is some where around the Grand Canyon. Located to the left of the fan on the laptop, which is blowing out warm air, it's the warmest part of the map. She's not a silly cat.
***
This part of the post isn't going to mean a whole lot to about 95% of you who read this but I was a bit excited this evening when I caught the train home from work with Billy Slater! In reality it was only a picture of Billy Slater but there he was, his cheeky face smiling down from the wall of the train above my head. Go Storm!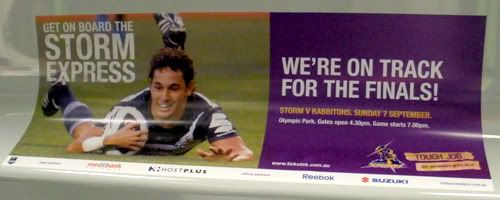 Billy Slater is just one of the superstars of Melbourne's own, Melbourne Storm Rugby League Club.
Seeing an ad for a footy game on a train might not seem like a big deal but Melbourne Storm don't get
any
a lot promotion about town so I always get a bit of thrill seeing things like this. It's probably similar to the feeling you get seeing
Supernatural
promoted anywhere ;)
( A couple more random Storm boy pictures and other Storm stuff... )