☀ Happy Pancake Day. Does everyone have Pancake Day on Shrove Tuesday? I think I read somewhere it may just be an Australian/UK thing...
☀ Work!bff and I hosted morning tea today in honour of Pancake Day. I brought in pancakes and cream, jam, Nutella, choc chips, lemon, sugar, and sprinkles. Needless to say, we didn't need any lunch.
☀ Spotted in Melbourne this afternoon. One bus with
My Bloody Valentine 3D
advertising: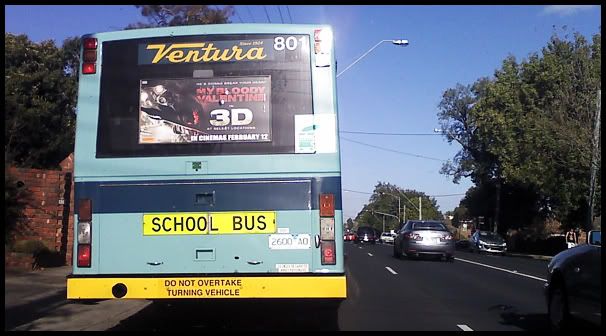 Q: What is wrong with this picture?
Hint: In Australia MBV3D is rated R18+ (Restricted) - People under 18 may not buy, rent or exhibit these films.
☀ Inspired by yesterday's Oscars and waiting for the final episode of
Leverage
today/tomorrow, I'm currently watching
Ordinary People (1980)
with a very, very young Timothy Hutton. You might be surprised who else is in it.
( Surprise! )
☀ Last but not least, I'm sorry. I've been kind of MIA this past week or so. Motivation is at an all time low for me at the moment. Motivation to do anything. I haven't even taken any photos of the little gremlin this week for Winchester Wednesday tomorrow.
( Blah... )